PNG Transparency
Screenshots from Mozilla 20000414 for Linux
These are half-scale JPEG screen shots of the pngs-img.html, png-IceAlpha.html, and png-MagnoliaAlpha.html pages. They were taken by Greg using a Mozilla sourceball build from the evening of 14 April 2000, compiled on Slackware Linux 7.0 (glibc-based) after defining CAN_SUPPORT_8_BIT_MASK in mozilla/modules/libimg/pngcom/ipng.cpp. (The build was in all other respects a completely stock version, and all builds since early July have enabled full alpha support by default. See also Makoto Hamanaka's Bezilla screenshots.) Click on them to see the full-scale, 24-bit PNG images (450917, 417136 and 741956 bytes, respectively). Also check out the default-build screen shots, taken with a completely stock version of Mozilla as of April 2000 (which used dithered binary transparency to approximate true alpha blending).

pngs-img.html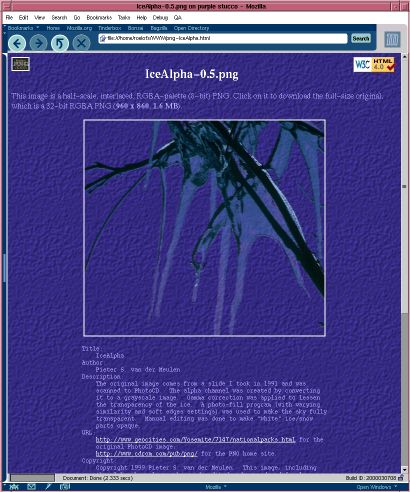 png-IceAlpha.html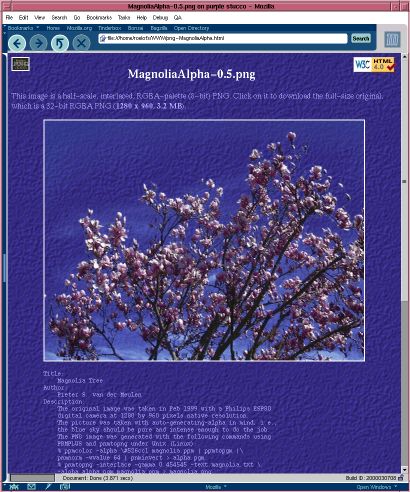 png-MagnoliaAlpha.html
Mozilla's rendering of PNG transparency is nearly perfect, and it does gamma correction, too. But this version (April 2000) still had an interlacing bug that caused a rough appearance in most of the images (particularly along the edges of the penguin, owl and icicles). That bug was fixed the following month.
---
Here are some related PNG pages at this site:
---
Last modified 14 March 2009.
Copyright © 2000-2009 Greg Roelofs.