PNG Transparency
Screenshots from CSCMail 1.7.8 for Linux
These are half-scale JPEG screen shots of the pngs-img.html page. They were taken by Steven "Count Zero" Kordik, the author of CSCMail, using the minibrowser that is included with his e-mail client. Click on them to see the full-scale, 24-bit JPEG images (just one for now, 135102 bytes).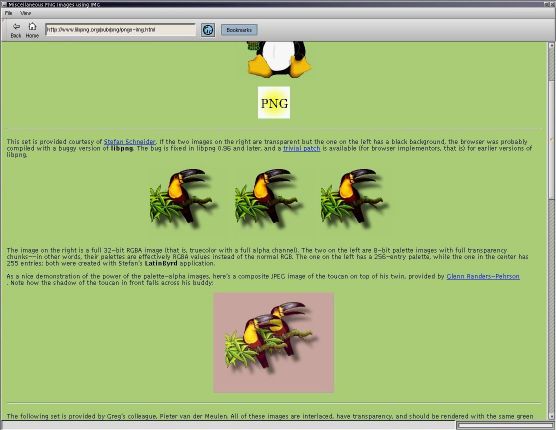 pngs-img.html
As with several other browsers, CSCMail's handling of PNG transparency appears perfect, but the darkness of the toucans and their shadows indicates that it does not support gamma correction.
---
Here are some related PNG pages at this site:
---
Last modified 14 March 2009.
Copyright © 2000-2009 Greg Roelofs.