PNG Transparency
Screenshots from iCab 1.9 for Macintosh
These are half-scale JPEG screen shots of the pngs-img.html and png-IceAlpha.html pages. They were taken by Julian Church using the iCab 1.9 preview release for the Macintosh. Click on them to see the full-scale, 24-bit PNG images (440393 and 538081 bytes, respectively).

pngs-img.html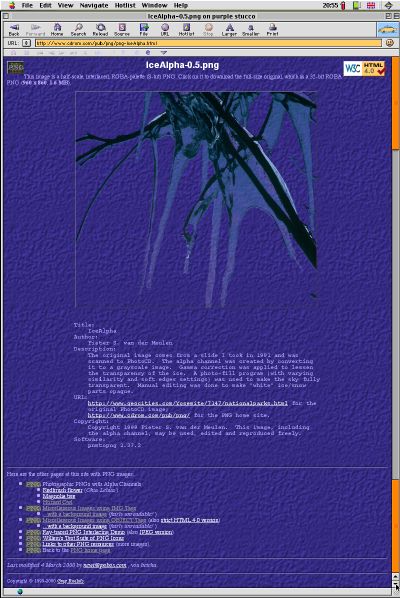 png-IceAlpha.html
As far as Greg can tell, iCab's rendering of PNG transparency is perfect. However, the browser does not currently do gamma correction (as evidenced by the particularly dark toucans).
---
Here are some related PNG pages at this site:
---
Last modified 14 March 2009.
Copyright © 2000-2009 Greg Roelofs.