PNG Support in VRML Browsers
Closeup of 16-bps Truecolor Textures on Opaque Materials
This is the TrueColor16 Opaque viewpoint in pngboxes.wrl, as seen by Cosmo Player 2.1 for Irix: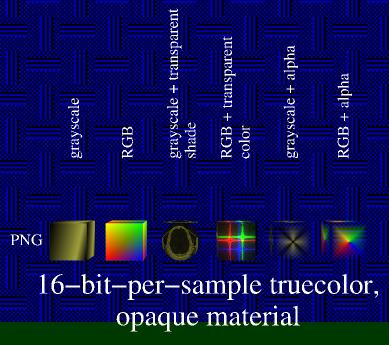 16-bit-per-sample truecolor textures on opaque materials
Note that the fourth texture from the left has a single-pixel transparent ``hole'' in the center of the red star (via PNG's ``cheap'' transparency option for grayscale and truecolor images). This can only be seen in the full-scale screenshot.
Click on the image for the full 913x1019 version in PNG format (167k). The individual PNG and JPEG textures can be retrieved from this directory.
---
Here are the PNG/VRML pages at this site:
---
Last modified 14 March 2009.
Copyright © 1997-2009 Greg Roelofs.